THE VOICE OF ATLANTIC CANADA, DELIVERED DIRECTLY TO YOUR INBOX.
Welcome to the bi-weekly boost, brought to you by [EDIT] and Tourism New Brunswick. 
A twice-monthly digital publication packed with timely news stories, opinion pieces, current affairs, arts curation, community messaging and positive local tales. The same quality journalism and world-class photography that you expect from [EDIT], but all unique to [EDIT]ION. 
Click here to subscribe to the [EDIT]ION email newsletter. 
---
Cover Story: Megan Brake's Bird's Eye View, by Morgan Leet
Design by Lindsay Vautour 
Featured in the issue below are:
* "Salt Of The Earth" by Morgan Leet
* Elevating Brands and Creating Timeless Imagery by Jennifer Wood
* Hammerthreads by Morgan Leet
* [

EDIT] + Tourism NB: Winter Staycation 
* Deb Perry Paints by Morgan Leet
* The Artist Behind The Famous Suits Painting by Morgan Leet 
Facebook | Instagram | LinkedIn | Twitter | YouTube 
---
Thirty-year-old Megan Brake, who grew up in Ontario, has had a whirlwind of a life. She had recently left an abusive marriage when she came to New Brunswick to help her father return to his home province. Although the dream to move here was his, it was exactly the change she needed too. 
Since arriving here, and deciding to move permanently, she has thrived. Starting her drone photography business, Outback Creations, has allowed Megan to pursue her passion and showcase her amazing talent.  
[EDIT]ION: When did you first come to New Brunswick?
Megan: I had just left my abusive marriage so picking up and leaving seemed like a great idea, within two days my father and I were in a Uhaul truck headed for the East Coast. When I got here I instantly fell in love with the landscape surrounding me, to say I was speechless is an understatement. I did a lot of healing and self-realization while I was here for a month. When I got back to Ontario it was clear to me where I belonged. It has now been almost two-years since I packed up my whole life and moved to New Brunswick and it has been one of the best decisions of my life. I have really grown as a person and as a photographer. While establishing my new life here I decided to try a different field of photography, which is aerial photography. I quickly caught onto flying after watching countless hours of YouTube videos and just getting outside and flying around the house to get comfortable with it. Little did I know where that would take me. It all started with sharing my photos on my Instagram account, @Searchin4Serenity. It's been almost four years since I got my first drone and I am about to open up my business that I'm very passionate about - Outback Creations.
[EDIT]ION: When did you first discover your talent in drone photography?
Megan: I have been into photography for quite some time. One day I was out hiking taking some photos and I thought to myself I would love to be able to view the landscape from a different perspective so I bought my first drone in 2017. As I started to share my photos online I loved the feedback I was getting. I would always receive messages telling me they love my work because they have never seen New Brunswick from that perspective. It was then that it really turned into a passion for me. It felt great that I was able to showcase the woods of New Brunswick and have people that lived here their whole life not knowing how beautiful our woods really are - well, some of the woods that is. For a long time I cropped the not so pretty parts of the woods out of my photos. It's only recently I stopped doing that and have started to show everything I see while on my adventures in the woods. The beautiful rolling hills and valleys along with the countless acres of clear cuts. I have had a lot of great feedback from those photographs but I have had some messages telling me to be careful showcasing those photographs that it could end my career before it starts. I'm not one for turning a blind eye on things that need to be addressed though. I am by no means an activist, I'm not educated on these subjects whatsoever. I am just a witness to what I see, then I share it for others. Not everyone can go ten to 20 kilometers into the woods to really see the devastating views.  
[EDIT]ION: What motivated you to make your photography a business, and not just a passion?
Megan: For a long time I knew I wanted to have my own business because I've never done well in the 9am to 5pm work settings. When I started droning I knew it could possibly turn into a business, but when I started to have people seek me out to purchase one of my prints, the license to a photograph, or have people contact me to work on their projects that's when I really got motivated to start planning a business. 
[EDIT]ION: What do you love most about living in New Brunswick?
Megan: Where do I even start? I live in a rural area so I would have to say the things I love about New Brunswick is the fresh air, the simple life, friendly community, and all the 4x4 trails available. Something I've realized in New Brunswick that I really love is you don't need to have a lot of land when the woods of New Brunswick is your backyard.
Currently, Megan is working on opening her Etsy shop, where she will be 
selling prints:
---
Two young girls playing dress-up, dreaming of the day that they would grow up and become fashion designers — that's how the story of The Shop, SALT begins. 
It wasn't quite a straight line for the childhood friends Lauren Saunders and Emily Evans to arrive where they are now though, as partners of a booming clothing brand based out of St. John's, NL. Although their dream was on the back-burner for a while as they pursued more traditional career options, one thing never changed —  their unbreakable bond. 
Leaving their hometown together, they became university roommates and then went on to start their careers. They shared the sense that something was missing though, until the ultimate start of their business in 2017. 
Lauren Saunders and Emily Evans met with [EDIT]ION's Morgan Leet to discuss their journey. 
[EDIT]ION: As childhood friends, what was it like starting a business together? Did it change your relationship, or strengthen it?
Lauren: Starting a business was such a natural progression for us, not just in our personal lives, but where we were in our friendship. We know we have a unique situation, and we both feel incredibly grateful that we still feel so excited to be doing this together. While we have always had the same interests growing up,  our personalities are oftentimes quite opposite. This makes for an extremely complimentary business relationship. We come at things from two completely different angles, so there is a lot of conversation, but our understanding of one another is so intuitive that most often one sentence isn't finished before the other person quickly jumps in, already aware of where the conversation is going. The dynamic of our friendship has carried over into our work relationship, this makes work not only extremely efficient, but so much fun! We also know each other's strengths and weaknesses, and are comfortably open about them. Having the relationship that we do, there is no judgment, so we can play into those traits for one another so that no area of the business gets left unattended.
Ultimately, we both recognize how incredibly lucky we are to be in this together, especially for it to be going so well. But it also just makes sense for us, the business is a testimony to our friendship, and it's because we work so well together that we are able to be successful. 
[EDIT]ION: What did you both do before starting The Shop, SALT?
Emily: Growing up, we would casually talk about starting a clothing business at different stages of our life. However, we would always find reasons as to why it wasn't the right time or right fit to take the leap into entrepreneurship. Before we started SALT though, we realized that even though we each followed different career paths, together, we had developed the skills to make this dream a reality.
[EDIT]ION: What are your individual roles like?
Lauren: Up until the summer of 2020, we were a two-woman team. We ran the entire business top to bottom together. This included an online store, a retail store front, and an additional seasonal holiday shop (that without our families, would never have been possible). We learned along the way and faced each challenge together.
This past summer, we were incredibly lucky to add some amazing women to our team who help make everything run so much smoother. They've added new layers to our work and have helped to create new possibilities - we are so grateful for them and what they've added to SALT.
In our current day to day, our roles are still very much intertwined. When it comes to clothing design and any major business decision, we do it together. Emily is our photographer, and all of our branding and content imagery is shot and edited by her in-house. 
We spend a large portion of our time planning content and messaging. We consider how we want to release a project or clothing drop and how we tell the story. Coming up with collection and product names, as well as the one-liner social media captions are some of our favourite activities.
[EDIT]ION: What inspired the name?
Lauren: The Shop, SALT was inspired from the saying "salt of the earth," meaning a genuine good natured person. At the time Emily had been working on The Salt Philosophy, the creative online project that focused on living a more fulfilled life. It also represented the small location we worked out of, a little space that was called "The Shop". The Shop was a small extension off Emily's home, but years prior, it had been a tiny convenience store ran by the previous home owners' grandmother. When acquiring the house, the family asked if we would continue to carry on the tradition of calling that particular room, "the shop". We loved the idea of incorporating the old shop and its history, and giving The Shop new life through our new business name. 
[EDIT]ION: What do you love most about living in Newfoundland?
Emily: The people, the stories, and the landscape. Being from here and living here has shaped who we are and how we design. Many people from Newfoundland and Labrador are truly "salt of the earth," good natured individuals who are building their lives, careers, and craft by trusting themselves, being genuine and following their dreams. These individuals inspire us, are who we strive to be, and we celebrate them through SALT.
[EDIT]ION:  Where do you hope to take your brand in the future?
Emily: Overall, we hope to continue to grow across the country and continue to do what we love for years to come. We have a few goals and projects in the works for the year ahead. In 2020 we launched SALTLAB, a creative space and test kitchen for new ideas. This subset of our brand is based on inclusivity and sustainability, with clothing that is gender-neutral and handmade-to-order.
Later this month, we'll be announcing an ongoing initiative called SALT X COMMUNITY. The purpose of this project is to lessen our environmental impacts, strengthen connections, and positively contribute to our community by collecting, reclaiming, and mindfully repurposing discarded excess fabrics and clothing items.
And this spring we will be announcing our newest artist collaboration, a project that has become an integral part of SALT and what we stand for. Having previously worked with Newfoundland and Labrador artists Mike Gough and Jessica Waterman, each spring we collaborate with an artist, who may have not worked with clothing before. Enabling another creator in their craft is an incredibly rewarding experience and we both feel it's one of the most fulfilling projects we take on as a brand.
---

---

Three Visual Artists Bring Beauty to Life and Capture it
The individual and combined talents that visual artists Becky Wallace, [EDIT]'s Interiors Editor, Sarah Homenick, and photographer Sarah Kierstead bring to their projects is a brand in its own right. The trio work together to create unique, styled scenes captured in images and video that serve private functions, local brands, small businesses, studios and venues. Their collaborations as artists and creators shed a light on the beauty and tranquility found in the Maritime Provinces. 
The three work together to bolster local brands and businesses, or transform events into intimate gatherings and romantic memories that will last a lifetime. This can include floral/table styling, photography and videography to capture a distinct look of a product or special occasion. They add editorial work that encompasses creative design, direction, styling and capturing.
When you meet the trio, you'd think they've known one another for a lifetime. In reality they came together digitally: each of the artists was a fan of the others' work and media presence. Homenick was looking for a photographer for family photos and her search led her to Kierstead. They became fast-friends. Meanwhile, Wallace discovered and admired both their work and reached out to propose a collaboration. They decided to meet and see how they could work together.
"I noticed that collaborations like ours were happening elsewhere," says Wallace. "I wanted to further explore using creative partnerships with private and corporate clients, and how they could assist small businesses in promoting and growing their brand." 
To showcase their combined talents, they crafted 'The Woodsy Gathering', a styled table with eye catching florals in the woods – all captured through photographs and video they use as a marketing tool for clients.
Becky lives in Rothesay with her husband and son. Her styling talent with florals and table settings are legendary, and she creates arrangements and whimsy scenes with ease. You'll often find her foraging along a country roadside or in her parent's expansive backyard. Her finds transpire into a one-of-a kind look. 
Sarah Homenick, is an amazing florist and has a natural knack for colour, texture and design. She has an unmatched ability to style and bring elements together to create beautiful spaces. Her eye for composition and light contribute to a fresh, polished look in the team's final products.
Photographer and videographer Sarah Kierstead lives in Fredericton where she works as a portrait and wedding photographer. Her still images and videos exude a calmness, softness and understated, romantic beauty that is timeless.
The trio have worked on several diverse projects together and are they excited about what's to come. Ideally creations such as the holiday table overhang and stairway floral arrangement for Saint John's Tuck Studio created by Homenick and Wallace would be documented and captured by Sarah Kierstead. The process and floral design would highlight the gorgeous interior and be valuable promotional and marketing materials. 
"We recently expanded TUCK (the old post office building) into one of the most photographed buildings in Saint John." says Judith Mackin, TUCK's founder and owner.  "As Christmas approached, we wanted to ensure that our window boxes, together with the festive decor inside, complemented the beautiful architecture of our new space. Sarah and Becky were the obvious choice. Possessed with a terrific sense of style -- an eye for 'just the perfect mossy twig' -- the installation they came up with for our store and outside was nothing short of breathtaking…as one visitor to our shop said, 'It's right out of London!'"
Kierstead tells [EDIT]ION, "Not only do our collaborations leave me inspired and empowered, but the conversations that embed our time together and the friendship that we have formed has enriched and brought beauty to my life within and beyond what we create." Homenick adds "I cherish every moment I get to work with these two incredible humans. It's easy and seamless and there is a creative trust in each other that is hard to find."
To see the trio's talents come to life, check out the video they created for [EDIT]ION, on The Maritime Edit Facebook Page by clicking here!
To learn more about hiring the them to promote your product, or to style and capture a special event, visit Instagram @sarahkierstead @sarah_homenick @reenywallce.
---
---
With every handmade leather bag, bookmark, and accessory, Ashley Brown draws inspirations from her memories growing up in New Brunswick. "Running around on the family farm or off to camp with my father, it's no wonder so much of what I make stems from necessity and nature." Ashley tells [EDIT]ION. 

Ashley is the creator behind Hammerthreads, a popular small artisan studio that crafts heirloom leather and quality canvas goods. Quality is paramount for her business, each product made using traditional techniques like hand stitching to make it last the test of time.

Starting in 2010, Ashley always believed that "in order to achieve a more sustainable future we need to take a big step back from single use and throw away culture. Crafting items that will not only stand the test of time but are designed with reparability in mind. Further beyond that I choose to use natural materials that at the end of their life will create as little waste as possible."

Ashley sat down with [EDIT]ION's Morgan Leet to talk more about her unique business. 


[EDIT]ION: Your products all work to tell a story. What story do you hope customers take from them?
Ashley: Every piece I make is infused with a lifetime of experience, not just the skills I use to craft but those moments in time that make up who you are. The summer days spent tending my grandfathers garden, the lessons in Norse lore from my late partner, a rich history woven together that lends to my own unique vision as an artist. I hope my work finds a home with those who appreciate the storied nature of leather and how it develops a character that will tell a tale of your own journey through life.

[EDIT]ION:

 

What inspires your designs and creativity? Ashley:

 

No part of life leaves me lacking for inspiration. Our century old home here in Woodstock offers endless opportunity, brimming over with antiques and oddities within, while the gardens all around our property are mirrored in almost everything I make. 

Experiences with my own mental and physical illness, coupled with a series of life altering losses, propelled my creativity to new heights. Through my work I am able to transform a lifetime of dark days into something new and beautiful.


[EDIT]ION: What advice would you give to someone looking to turn their hobby into a business?
Ashley: Just do it. Looking back, I now know I was running a business long before I even realized it. There really is no right way to make the shift other than putting the work in and taking that next step even if you don't know exactly where it leads.

Instagram: @hammerthreads
---
[EDIT] + TOURISM NEW BRUNSWICK 


Winter Staycation

Maple makes springtime the sweetest season! The days are getting longer, the weather's warming up, and across the province menus are being inspired by the flavours of spring. Treating yourself to a taste test is an especially delicious way to support local businesses, so keep an eye out for maple infused dishes and craft beverages across New Brunswick.

Don't miss out on tasty maple experiences too, like the Albert County Maple Sugar Festival (March 26-28), or a visit to a sugar camp for tasty delights. This year is a little different than most, with fewer maple producers offering experiences, but many are still welcoming visitors to purchase syrup and other maple products on site. We recommend calling ahead before you visit.

Make the most out of spring and explore within your Steady 15. Help keep everyone protected by following all the Public Health guidelines and travel restrictions on gnb.ca/covidrecovery.

tourismnewbrunswick.ca



Deb Perry Paints
by Morgan Leet
Deb Perry's enthusiasm for all things art is instantly tangible when speaking with her. As a Saint John, New Brunswick painter she is passionate about everything local, the beautiful nature that surrounds her and her family. Her charming personality is reflected in her paintings that are bright and full of colour. From lupins, to local churches, and ocean views, her creations give you a window into how she sees the world, and it does not disappoint! Her art is impressing people throughout the community and beyond, Deb noting that she is "lucky to have the support of lovers of art who trust their visions in my hands and they keep coming back."
[EDIT]'s co-founder, James Mullinger, gives high praise to Deb, noting that her "painting of St. Paul's Church might be my favourite painting ever!" Deb was inspired by this painting when she was driving through the Rothesay Commons, and upon seeing the church instantly turned around to capture the image.  
Deb became increasingly committed to her art during the COVID-19 pandemic, when artist Ed Coleman began hosting two-hour acrylic painting sessions through Facebook. Through his teachings, Deb's art has become more fine-tuned, and her connection to the art community has grown. She loves to sit out in nature, where she finds her creativity flows best and practice her expanding art skills.
Beyond her own creations, she loves the concept of art as a whole. Deb tells [EDIT]ION how she is inspired by historical artists like Emily Carr. "She is definitely someone that I think of often. You think of all she went through, and I don't have to deal with that, and it wasn't in vain," Deb explains. 
She believes that "a piece of real art should hang in every child's room, stimulating their natural sense of wonder." The deep meaning behind her artwork is clear and is a sentiment that makes every piece of hers uniquely heartwarming. 
You can purchase her artwork through her social media channels below, or contact her for a commission at

hatetoast@hotmail.com
---
---

Copyright of Heather Millar Art 
The Artist Behind The Famous Suits Painting
 by Morgan Leet
The wildly popular TV show Suits aired from 2011-2019, receiving a multitude of awards and now is featured on Netflix and Amazon Prime. The series deserved every bit of recognition it received, peppered with humor, quick wit, suspense and drama as it followed the life of two lawyers at one of the top law firms in New York City. Notably, it was the big break for Meghan Markle, who played Rachel Zane throughout the series run. 
One of the other main players in the show happened to be the now famously known painting, by PEI artist Heather Millar. The painting titled Listen Closely wasn't just featured in the majority of episodes, hung in the main character Harvey Specter's office, but came to have a life of its own. The writers of Suits used it as a theme for Harvey's backstory, and created a storyline around it as Harvey loses it and then has it memorably returned back to him. The dramatic story has since led to countless fan theories, articles, and depictions of the painting; instantly recognizable to any Suits fan.
As a fan of the series myself, I was happily surprised to stumble upon the little-known fact that the artist behind the legendary painting was in fact by a PEI resident. 
Heather Millar met with [EDIT]ION to talk about her art, Suits, and her experience since. 
[EDIT]ION: When did you move to PEI? What brought you there?
Heather:
My husband and I moved to PEI at Christmas in 2008. We had come from St. John's, NL, and a year prior to that, from Edmonton. We had met in Calgary at ACAD while we were students and upon graduating we moved back to Edmonton, where my family was. Getting tired of the grind and not finding much traction to keep us in Alberta, we decided to take advantage of the housing boom and move as far east as we could get... just because.  I look back on it now and think, how insane, how brave.  We spent a year in NL before realizing it wasn't for us and turned our eyes outward to the other maritime provinces.  PEI had a certain charm, so we went on a little vacation and immediately fell in love, and in less than a year had put down roots.
[EDIT]ION: When did you find out that
Suits, wanted to feature your art?
Heather:
I actually had no idea about
Suits
until a local artist contacted me to say she saw some work on it that thought it might be mine.  At that point I had recently joined Canvas Gallery in Toronto who had a collection of my work,
Listen Closely
included. In fact, prior to that, I had a local opening in PEI with that collection of work, titled
Secret Conversations
, that was poorly attended. I was quite disappointed about it at the time, hoping my big debut would carve out a name for myself on the island. That summer the owners from Canvas Gallery were in PEI on vacation, saw my work hanging at our small business at the time, and let me know they could represent me in Toronto. They work alongside folks in the television and movie industry in Toronto renting and selling work to sets, and two of my pieces had been sold to the production company. For them it was just another day in the office, nobody had any idea that
Suits
would explode in popularity like it had. I had no idea what the show even was and had just sort of put it out of my mind. I almost never know where my work ends up once it's sent and sold through the galleries and so it becomes an out of sight, out of mind thing. 
[EDIT]ION:  What do you think your painting represented in the show?
Heather:
I think my piece represents Harvey's complicated relationship with his mother, as a touchstone to her. I always wondered why he had such a clean-cut, orderly office, everything with it's own purpose and here's this totally strange and somewhat inappropriate painting above this record player.  It never seemed to jive with his persona until you realize he's got a sentimental side, then it all slid into place. 
[EDIT]ION: What was the experience like for you, seeing the show and your work gain so much popularity?
Heather: Surreal. I had viewed my work before on HGTV shows like Sarah's House and Income Property, but those were just quick snippets, set design and staging of renovated spaces. I had never thought my work would  be actually written into the story line and be made a feature. The first few years of airing I would receive emails from people wanting to purchase the actual painting, upon which I would explain that it's already purchased by the producers of Suits and therefore not available for sale. I had briefly rolled around the idea of making it into a print but quickly rejected the idea since in art college it was drilled into our heads that prints only devalue the original and you're a sell-out, unless of course you are a printmaker. But, times have changed and when I thought of it further I thought "Why not create an accessible version of the piece? Who is it hurting and why wouldn't I want to create an outlet for myself, if only to get my name out?" Finally, the lynchpin was seeing someone's poor rendition of my piece selling on Ebay for $200. I was mortified and somewhat embarrassed, not to mention upset by the blatant copyright infringement. It was the push I needed to put a print into production, guaranteeing purchasers it was an authentic print, signed, initialed and titled by me, along with a signed certificate of authenticity. To be totally honest, it's been a roller coaster or emotion at times, fuelled by the fact that we're still smack dab in the middle of a pandemic and folks are really loving their Netflix, where you can watch all seasons of Suits. In fact, in 2019 as the show was filming it's final season, Sarah Rafferty contacted me to ask if I had any studies of Listen Closely that she could purchase as a finale gift for Gabriel Macht (the actor who played the main character, Harvey Specter). Sadly I did not, but happily breaking my rule of "never the same piece twice", I did end up creating not only one but two smaller works of Listen Closely from different angles. One for herself and one for her to gift to Gabriel. One of the producers had already laid claim to my original, so I'm quite pleased to hear there was some bickering over it. It will be the only time I'll revisit a painting so monumental. 
You can purchase Heather's work directly from her website below.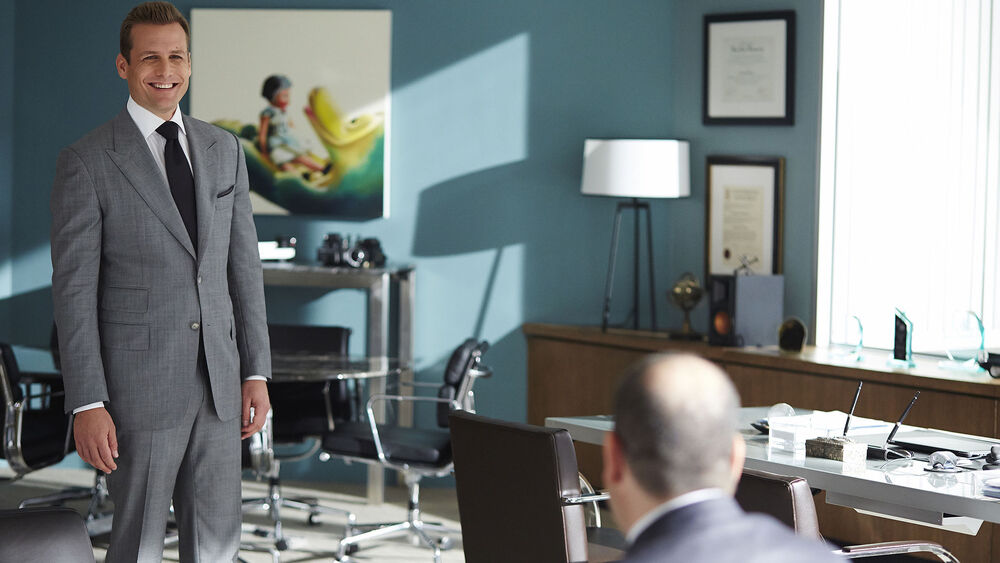 ---
---
Have a product launch or news to share? Drop us a line.

Questions about your print subscription? Email Customer Service.

Copyright © 2021 [EDIT], All rights reserved.